The Scrum Reference Card, and Other Articles
by Michael James (MJ)
Software Process Mentor.
6-page Scrum Reference Card. Print your own below, or write me for glossy trifold printed cards (free or cheap, depending how many you need).
Print version
Reference Card de Scrum por @martinalaimo ahora también en español.
Print version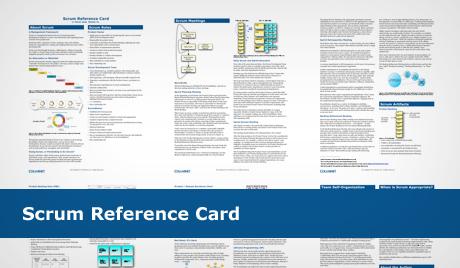 有关简体中⽂文版Scrum参考卡的意见和反馈,请发⾄至徐毅: 或 http://kaverjody.com
Print version
7 Obstacles to Enterprise [Large Scale] Agility. Originally posted at gantthead magazine.
Print version
An Example Scrum Master's Checklist (What does a dedicated Scrum Master do? See last page for classroom use instructions.
(- a PDF document)
Metrics can mislead. If you absolutely need them, here's how to do it.
(- a PDF document)
What [your] HR [department] Doesn't Know About Scrum, Better Software Magazine.
(- a PDF document)